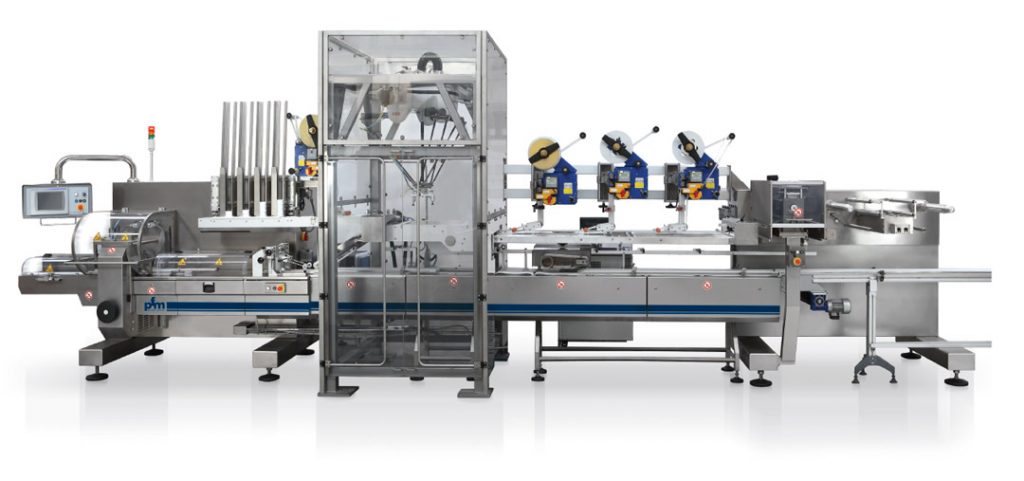 Wet Wipes Packaging Line PFM Scirocco with lid applicator Robot Stainless Steel, to produce up to 100-160 packs/min.
Products: wet wipes for personal hygiene care.
Packaging: flow pack with double label (re-closing label and tamper evident).
Production rate: 100 packs per minute with integrated robot. 160 packs per minute with robot placed at the end of line.
Advantages: one of the fastest and most compact lines in the world.
Line composed of:
Horizontal flowrap machine PFM Scirocco BA.
Automatic feeding system composed of 4 independent conveyors to feed the product directly into the wrapping film.
Double reel holder shaft complete with automatic reel splicer.
Servo driven film die cut unit to produce the pack opening.
3 labelling machines: two units, one of which in stand-by, for the application of the package re-sealing label, the third for the application of the tamper evident seal label.
Integrated lid applicator robot for lid application.
Longitudinal fin seal unit composed of: three sets of separate tiltable pulling wheels, one set of preheating bars, trimming device with mechanical trim rewind and cold pulling wheels.
Siemens or Rockwell (Allen Bradley) electronic components.
The advantages for PFM's popular solution for handling the lids of baby wipe packages include:
Lower cost.
Simplicity for the operator.
Takes less space than traditional gluing solutions because the lid applicator robot may be either integrated in the packaging line or placed at the end of line, over the work area and not next to it.
More hygienic because there is less handling.
Reliability.