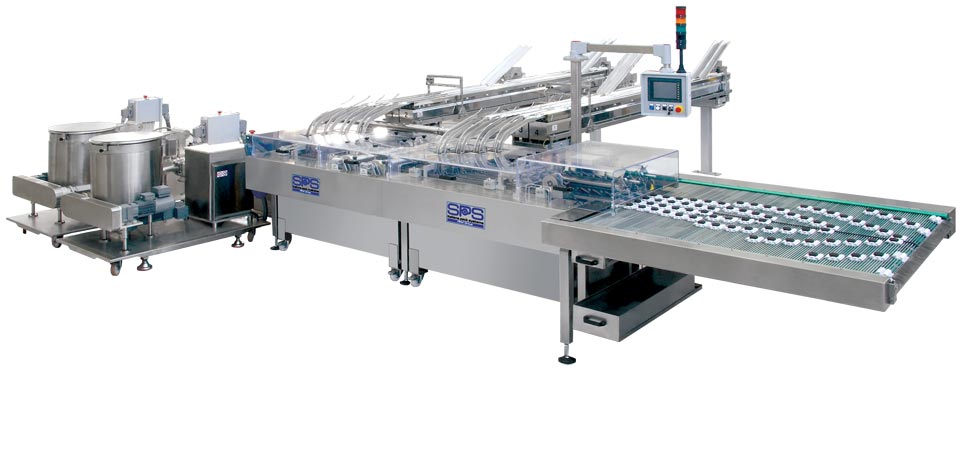 High speed 4-lane automatic system for sandwich biscuits production complete with vibrating channels groups, double storing units and rows multiplier.
STANDARD FEATURES
Modular cantilevered structure.
Mono or duo-coloured cream filling.
Version with one or more pumps.
Hollow-space cream tank and piping.
Individual tensioning of biscuit feeding chains.
Cleaning of chain pushers with brush and hot air jet during machine operation.
Quality control obtained with an automatic rejection system.
Unit for the calibration of the product thickness.
Man/machine interface by means of 8" colour control screen.
Display of machine status, diagnostics, statistical data and alarms.
Inverter-controlled motors.
Machine status diagnostics and alarms display.
4-wire biscuit conveyor system.
"No biscuit No Cream" system.
OPTIONS:
Biscuit moving systems for automatic feeding of the sandwiching machine.
Automatic lubrication system.
Unit for the insertion of corrugated cardboard from reel.
Sandwiching machine exit unit with product in flat or stacked position.
Multiplier unit exiting sandwiching machine, for up to 20 rows and for direct connection with cooling tunnel.
Sign up Now to access the tech area