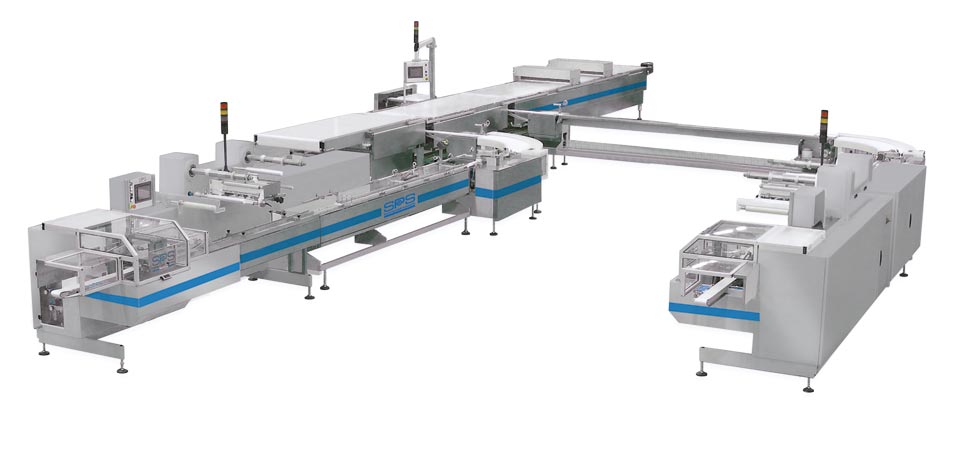 Integrated high speed count-line wrapping system complete with buffering distribution stations, turning devices, no-contact inline feeders and fully servo driven horizontal wrappers.
STANDARD FEATURES
Modular cantilivered frame.
4 servo driven axis.
4 finwheel unit (cold, two heated, fold-over).
Heat and cold sealing equipment.
Servo driven unwind feed rollers.
Automatic film splicer.
Self centring double reel holders.
10" coloured touch screen.
Display showing machine status, diagnostics, production data and alarms.
Contact product parts in stainless steel.
Chain with cantilevered pusher fitting.
Driven top brush at discharge belt.
Ejector for empty/double/spliced packs.
Complete series feeding systems for biscuits.
OPTIONS
Coding and reading devices.
Pneumatic blocking double reel holders.
Cooling plate on longitudinal sealing wheels.
Double pusher chain.
Plate-top chain
Vacuum system.
Modified Atmosphere Packaging MAP.
No gap, No seal function.
No product, No paper function.
Long Dwell crimper unit.
Mechanical gusseting device.
Driven top belt at discharge belt.
Sign up Now to access the tech area