PFM and MBP complete Weighing and Packaging Line for Produce in Trays
On the strength of their experience in the manufacturing of packaging machinery applications for prepared vegetables (IV range), PFM and MBP have designed and produced a complete weighing and packaging line for produce in trays.
The requirement expressed by the customer was to have a complete line that would receive product coming from the produce washing plant and take it right through to the production of flow-wrap packs in trays of different weights /sizes. The PFM solution features a stainless steel lift conveyor feeding system that picks up the product and discharges it onto the MBP 16C2 EW TWIN DMA weigher.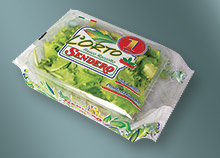 The weigher, equipped with an internal dehumidifier to eliminate condensation and the DMA system for perfect weight calculation, discharges the product onto a tray-filling system.

Here the salad leaves are pressed and the trays are discharged onto the packaging machine feeder belt. The trays are then conveyed to the PFM MISTRAL packaging machine where they are flow-wrapped at speeds of up to 100 ppm. The Long Dwell sealing system (PFM patent) with long sealing times guarantees completely airtight seals. No line currently available on the market was able to achieve a speed of 80 ppm, yet PFM has gone beyond even this limit.