MORE SPACE FOR Research and development
PFM Packaging Machinery finds an extra 2000 SQ M of space for DESIGN, DEVELOPMENT AND SERVICING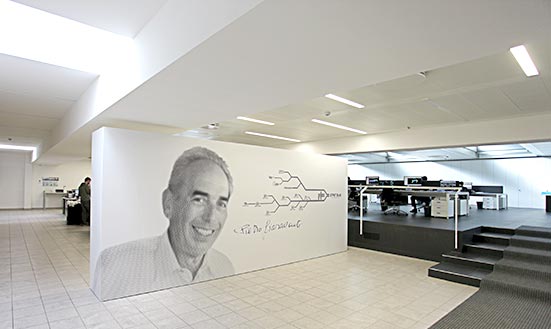 In April 2014 the ribbon cutting ceremony was held inaugurating the new and refurbished offices in the PFM Packaging Machinery facility in Torrebelvicino, the PFM Group's headquarters.
"The 2000 sq metre extension was specially designed to reflect the technological and innovative spirit of our Group," points out Andrea Fioravanti, Sales and R&D Director, who goes on to say, "the new state-of-the-art facilities, equipped with all modern features, will house the Design and Planning, Research & Development and After Sales Service Divisions. This project reiterates the PFM GROUP's firm intention to continue to consider R&D the vital lymph of the Company. The Design, Development and Technical Servicing working areas are designed to be open plan to enable staff to connect and share, reflecting a modern, interactive and flexible way of working. The new Learning Center, where training and technical refresher courses will be held, is located in the new area".
Paolo Fioravanti, Managing Director of the Group goes on to say "The investment runs parallel to our trend in growth and demonstrates our steadfast determination to continue to make on-going improvements and go beyond the expectations of our customers and partners every time. The project also involved refurbishing pre-existing work areas and guarantees our team more spacious, light and airy, functional work areas and better company organisation. Communicability between company areas and sectors has been considerably improved with a view to enhancing efficiency as a whole".
The inauguration of the new areas comes in the year of PFM's 50th anniversary. A picture of PFM's founder, Pietro Fioravanti smiling out from a mural will welcome all visitors. "It's an homage to our father," conclude Andrea and Paolo Fioravanti, "to his iron will, enthusiasm and the innovative spirit that drove him, and which he was able to instil in everyone around him."