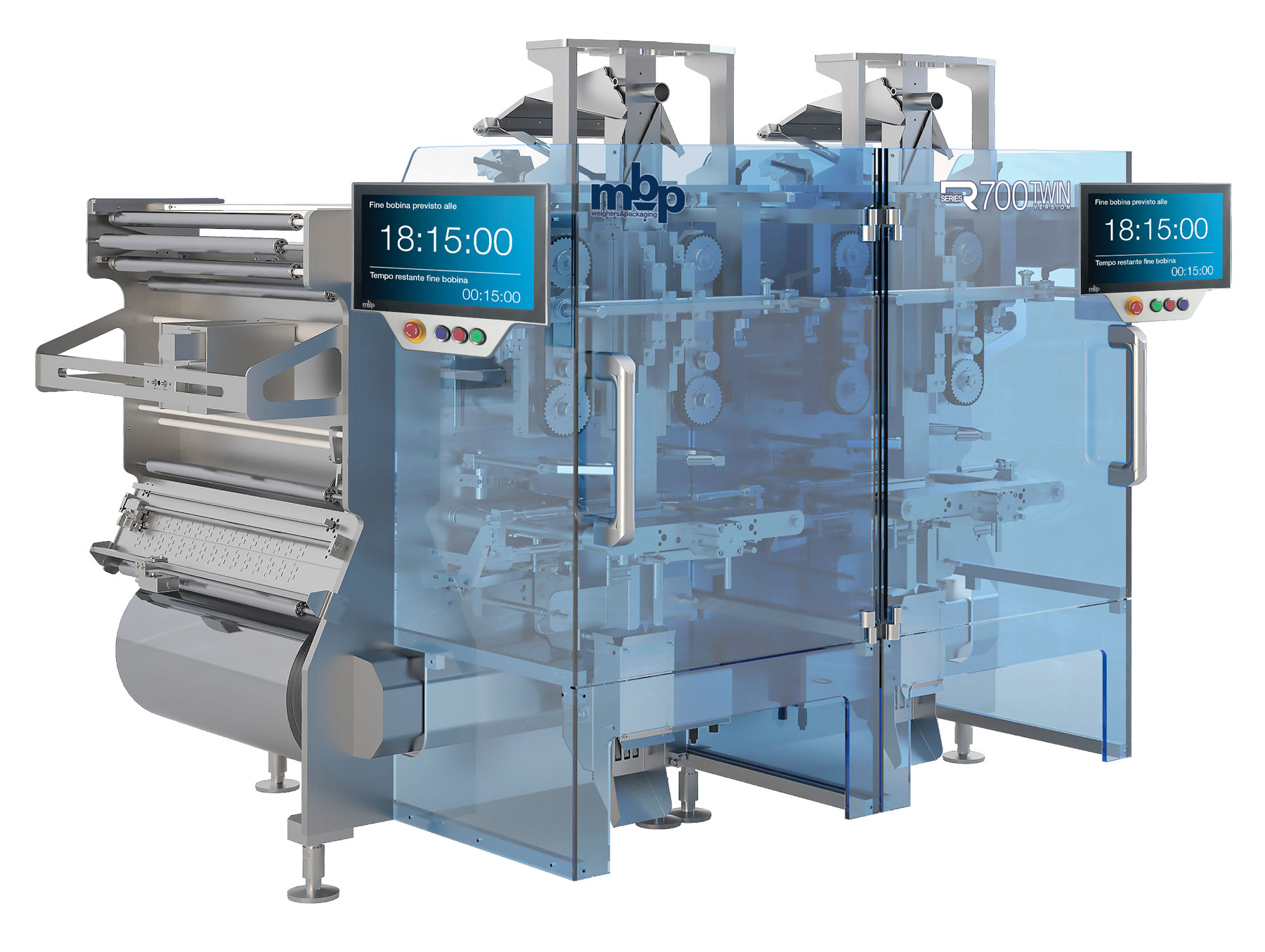 The R700 TWIN is a vertical form fill and seal packaging machine for the production of bags sealed on three sides, such as pillow-bags, as well as block bottom bags and/or block bottom bags with 4 corner seals.
Benefits
Save space, fast and easy format change, continuous control of the film stretch
The R700 is a very compact and innovative machine that allows very quick format changes. It features unique technical solutions which include the film reel holder shaft positioned on the side of the machine body instead of the traditional rear position; the introduction of the self-centring film tracking unit positioned on the top of the frame that guides the film towards the forming tube and the drastic reduction in the number of idle film rollers that transfer less inertial energy to the film allowing for greater acceleration
The operating principle: from continuous to intermittent motion
The operating principle of the machine is based on a motor driven reel-holder shaft that rotates constantly and the film pulling and sealing unit that moves intermittently. An electronic compensating dancing roller transforms the constant movement of the film arriving from the reel shaft into an alternating movement towards the sealing units. Thanks to this principle, the use of the mechanical reel brake is not required anymore and the overall machine dynamics is very smooth thanks to the film stretch management that can be programmed by the software. The first 6 film idle rollers rotate constantly and only 2 rollers move intermittently. As a direct consequence, the inertial energy is not transferred to the film and it is possible to increase the acceleration of the film and / or the sealing time, which greatly benefits productivity and the aesthetics of the pack
THE TOP 5  BENEFITS OF THE TWIN VERSION
The space occupied by the R700 Twin is 3.1 sq. Meters (2139mm x 1845mm). 

Square-bottom and/or steelo bag production can reach up-to70+70 bags/min.

Pillow-bag production can reach 120+120 bags/min.

Time needed to change format and set-up is significantly reduced with respect to any similar continuous machine.

50% of production is always guaranteed in case one machine stops. If the potential capacity of the twin machine is not achieved at its 100%, it is possible to boost the production of the remaining working line to provide for the inactive one.
Sign up Now to access the tech area