High Speed Stock Cube Packaging Line
PFM has developed a high-speed stock cube (Bouillon Cube) packaging line for a multinational company that owns many of the food industry's most popular brands. The first line installed was so successful that the customer decided within a few months to purchase another two lines.
The stock cube market is extremely dynamic and fast growing, particularly in emerging countries.
Stock cubes are extremely difficult products to package using flow pack technology. Being particularly fragile, crumbly, oily and slippery, they also require a working environment that can be thoroughly sanitised.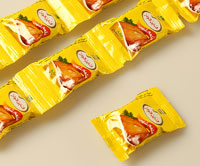 Customer required: to produce pre-cut strips containing 5 individual packs of product at high speed.
Solution: PFM packaging line produces 700 aesthetically perfect packages a minute, which in turn increases the shelf life of the product.
These pre-cut strips are ideal for displaying in retail environments.
The advantages achieved over the competition are considerable in terms of productivity, reducing wrapping material costs, preserving product freshness and increased product shelf life.