PFM has developed a complete line for handling and packaging a stacked product that is extremely difficult to handle: cookies. These extremely fragile biscuits containing chocolate are irregular in shape and size.
The PFM line collects the cookies from the processing line, lines them up and forms stacks of 2 or 3 biscuits and then packages them at speeds of up to 300 products a minute.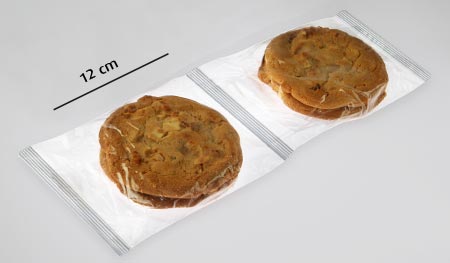 Dimension checking station.
Belt phasing system
Stacking system that produces stacks of two or three products. Uses a three-level biscuit stacking device.
The Zephyr model flowpack wrapper features a programmed crimper cutting system. The result is a package containing two stacks of product sealed in the middle.