High-speed Feeding and Packaging Line for Beef Sausage Rollshigh-speed Feeding and Packaging Line for Beef Sausage Rolls
PFM designed and produced a complete line to feed and pack beef sausage rolls for a famous Nigerian bakery. The customer requirement was to flowrap single beef sausage rolls arriving in rows from the cooling tunnel. Minimum output required was 40,000 individually wrapped products per hour.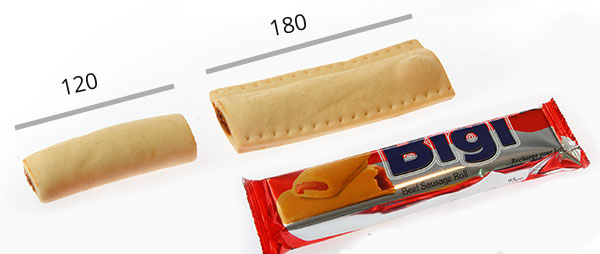 PFM's Solution
PFM offered the client two wrapping lines, each consisting of 4 horizontal wrappers model PFM Falcon HS complete with automatic feeding systems. Should one of the 3 main wrapping machines stop, the product is diverted onto a collection belt which sends it to the feeding system of the fourth wrapping machine, which is usually in a stand-by position.
PFM can reach extremely high packaging speeds by continuously feeding 3 wrapping machines + 1, while successfully dealing with any slow down due to stoppages, even for routine maintenance operations.