Complete Feeding Wrapping and Cartoning Line for Mutipacks of Yogurt
The PFM-CAMA experience in the dairy sector, with a wide range of installed solutions, has once more created a customized system to satisfy the requirements of a leading European yogurt manufacturer.
It's an integrated automatic packaging line featuring CAMA Triaflex robot, a flow-wrap machine PFM SCIROCCO and a CAMA Wrap Around Case Packer.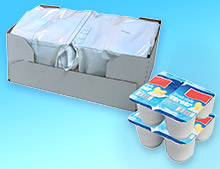 CAMA Group's Triaflex Robot, coupled with an intelligent vision system, can work in three dimensions, with 360-degree head rotation, picking multipacks of yogurt from the production line belt and positioning them correctly into the feeding belt of the PFM flowwrap machine SCIROCCO.
PFM SCIROCCO is a flow-wrap servo assisted horizontal wrapping machine for producing wraps hermetically sealed on three sides from a reel of heatseal wrapping material, it is equipped with the Long Dwell sealing system, which produces hermetically-sealed multipacks of yogurt reaching speed of 80 packs per minute.
Cantilevered machine construction with rounded corners, openable on all sides: thus it's quick and easy to clean in every point, visible or hidden.
By means of a conveyor, the multipacks are transferred into a CAMA wrap-around case packer.