MBP – PFM – CAMA: A turnkey line for cereals
From feeding to weighing, to primary and secondary packaging: many jobs for one single partner. A project made possible thanks to a successful collaboration. PFM Group and CAMA Group have put their partnership to the service of the most popular South African bakery food company, manufacturing a complete primary and secondary packaging line for breakfast cereals.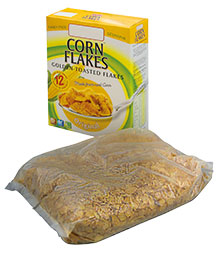 The collaboration proved to be successful and the client only had one contact person for the whole packaging process, from the product to the box.
The client needed a pillow-bag type package that could be inserted into a cardboard box, and the line needed to be flexible as the client required three different packages.
PFM suggested using two vertical VFFS packaging machines model PFM Zenith EW, totally servo-assisted and complete with automatic reel splicing device, fed by two MBP weighing machines, Series 14 C1, with their own specialized distribution systems.
The two PFM ZENITH machines have an output capacity of 55, 40 and 30 ppm for the 500 g, the 700 g and the 1,000 g content respectively. The two gusseted pillow-bag packages are dropped on a CAMA Trapbox belt to be conveyed to the feeding system of the cartoning machine.