Double welding unit for pillow packs and resealable packages with VELCRO system
PFM, Amcor and Velcro concentrated their efforts in developing easy-to-open packages aimed specifically at fresh products and for the dairy sector.
As the saying goes: unity is strength! PFM's experience and leadership in the cheese packaging sector together with the brand reputation of the trademarks of the two partners respectively producing wrapping material and the exclusive closure system, have led to the development of a most successful packaging line that once again proves the absolute importance for focussing on end consumer needs.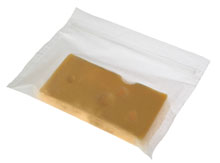 PFM SCIROCCO COMBI turns out 3-seal resealable packages and, thanks to the interchangeable sealing unit, can also produce traditional pillow bags.
The resealable package can be preserved in the refrigerator even after its first opening and will not need to be placed in other containers, this way reminding the consumer of the brand name making this possible; the VELCRO closure system is airtight and prevents humidity infiltrating, providing long-lasting protection for the product; the package is hermetically sealed and the intermittently-applied VELCRO does not interfere with the sealing area, guaranteeing absolute air-tightness.