PFM Zenith Twin for Coffee Capsules
With tens of complete lines installed at the most popular manufacturers, PFM is confirmed as leader in coffee capsules packaging.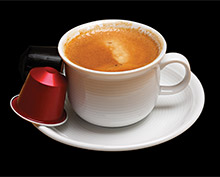 After many years experience with specific lines for coffee capsule packaging PFM is able to offer a wide range of VFFS packaging machines that accommodates packaging of various sizes and variable speeds depending on production requirements.
PFM ZENITH TWIN COFFEE is a custom line comprising of two packaging machines that working together, produce packs containing 1 to 5 capsules of coffee and reaching speeds up to 70 standard or gusseted pillow packs per minute.
The TWIN feeder system complete with a capsule accumulation belt allows the packaging machine to be constantly fed. The flavour, aroma and characteristics of the coffee remain unchanged after packaging thanks to hermetic seals. Size change is extremely quick.