Wet wipes: perfectly integrated processing and packaging system
In conjunction with TEKNOWEB, PFM has produced a series of perfectly integrated entry-level  lines for the production and flow wrap packaging of wet wipes in stacks. These applications are dedicated to budget conscious, small/medium-sized manufacturers requiring extreme flexibility.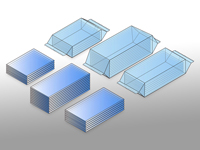 Customer requirements: a complete, automatic, flexible line that is perfectly integrated from initial  preparation all the way through to the packaging process.
Product: wipes impregnated in lotion arranged in stacks.
Production speed: up to 80 packages a minute.