Non-stop Resealable Flowrap Packaging Line for Pre-wrapped Cheese Slices
PFM have developed a high-speed resealable cheese slice packaging line for a Japanese company in a joint venture with an international brand leader in the food industry.
Customer requirement: to wrap cheese slices at high speed in continuous production with flexible format changeovers.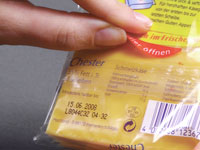 Product: cheese slices.
Formats: piles of 8, 10, 12, 15, and 20 slices.
Packs: flowrap die-cut resealable packs with an adhesive label.
Production speed: up to 150 packs a minute for the 8/10 slice formats.
The technological challenge: cheese slices are an extremely delicate and fragile product that must be treated with the utmost care throughout the entire processing, conveying and packaging process. PFM have succeeded in combining this requirement with high-speed packaging and completely hermetic seals. Moreover, every part of the line is sanitisable.