PFM Diversify With Pouches
The PFM Group are now making their entry into the pouch sector with the new D-Series. This range of Horizontal Form Fill and Seal Machines produces the highly successful Stand-Up Pouches, which are becoming extremely popular in a large number of different food, non-food and beverage industries.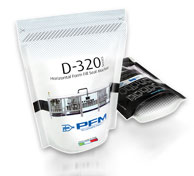 Innovation and diversification are the precepts that have inspired the PFM Group's strategies over the last few years and the D-Series was developed precisely with these in mind: a machine unparalleled on the market in terms of features and performance, the fruit of three years' design, planning and testing by companies in the PFM Group.
The PFM D-Series Full Servo produces a vast range of stand-up pouches with relative accessories for powder, granular, dense and liquid products; the D-Series' applied technology has enabled it to successfully overcome the most common problems encountered in producing pouches and is aimed at narrowing the gap between the machine and operators deriving from its complex use.

Format Changeover: one of the procedures at the heart of the packaging process has been rendered extremely simple and fast for any operator.

Simple: all the machine's functions and parameters are extremely easy to program, even by unskilled operators.
Accessible: the Full Side Access construction concept enables all the parts of the machine

to easily be reached for sanitisation and maintenance operations.
"With the D-Series," Andrea Fioravanti, Research and Development Director, has announced, "PFM have speeded up innovation by allocating over 3% of their turnover to research and development. The PFM D-Series is a range of extremely innovative machines that demonstrates PFM's experience in using state-of-the-art mechatronic technologies for processing flexible film. The D-Series opens up new horizons in the pouch sector by offering the opportunity to modify times, sealing pressure and cutting pitch from the recipe; it comes complete with self-diagnostic alarm systems and offers easy maintenance and sanitization, high performance and easy format changeover. The PFM D-Series brings total innovation to the industry: it facilitates operators in every sense thereby allowing higher production rates to be achieved through its excellent overall performance and extremely short format changeover times".