We are pleased to inform you that PFM GROUP will attend next edition of IPACK IMA which will take place in Milano Rho from February 28th to March 3rd 2012.
Don't miss a visit to our stand at Hall 11 Stand B44/C53 where we'll exhibit the following machines: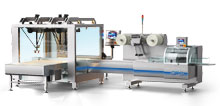 PFM Solaris Smart3D Steelo Version: High speed vertical form fill and seal line composed of an innovative box-motion, full-servo VFFS machine model PFM Solaris Smart3D Steelo version.

Production: higher than 100 Steelo bags/min.

Scirocco BB: Full servo horizontal flowrapper with Long Dwell sealing system, which produces up to 200 ermetic sealed packs/min.
SPS-CAMA automatic loading and packaging line for cigar wafers: CAMA/SPS recently realized an innovative "turn key" system for cigar wafers with a continuous motion horizontal flow-wrapper and a Multi Delta loading unit, that may include up to 4 Delta "Triaflex" robots. The CAMA packaging line is composed of a Multi Delta robot unit, which by means of "smart" vision system can pick naked products (cigar wafers), coming from production line and position them correctly into the SPS continuous motion horizontal flow-wrapper model Regola. The wrapper is equipped with sophisticated control of quality and number of products per pack, "no-product-no bag" application, gusset unit. Subsequently, the products are packed in different configurations into end load cartons. The optimal, fastest and most gentle-handling solution has been studied, so as not to damage delicate products such as cigar wafer.

Products: cigar wafers.
Wrapping speed: up to 300 packs/minute.

BG Pack MP 240: 4 side-seal vertical packaging machine for single dose bags model BG Pack MP240.

Product: single dose bags.
Production: 300 bags per minute (100 bags/min. per single lane for a max. of 400 bags/min. on 4 lanes).
Wrapping material: heat sealable laminated.
Optional equipment: – Tear notch. – End-line belt. – Thermal transfer printer. – Gas flush system.

SPS B1600 Sandwiching Machine: New SPS B1600 double track sandwiching machine. It represents a further development of the already popular B1600. The new model has been completely redesigned taking into account the increasingly demanding requirements of customers in terms of cleaning and disinfection of the line while maintaining the same high levels of performance in terms of speed and production efficiency.

Production: up to 1600 sandwiches/minute.

MBP 10C2: MBP Multi-head weigher with 10 heads model 10C2, inclined at 45° with plain finishing, stainless steel construction, controlled by advanced industrial PC.

Product: biscuits, snacks, pasta, candies, cherries of mozzarella cheese etc
Production: up to 120 weighings per minute.

PFM-MBP Zenith DUO BAG: Compact vertical form fill and seal packaging line complete with a vertical form fill and seal wrapper model PFM Zenith and a 10 heads weigher model MBP 10C1 Series which produces packs with a pocket for putting in gadgets or accessories needed to use or consume the product.

Product examples: fruits and vegetables in chunks, cheese and processed meat and salami cubes etc. with their own cutlery and wipes; confectionery and sweets wrapped with gadgets and toys for young consumers; mixed frozen foods, fresh or dried pasta wrapped with a sachet of spices or flavouring.
Production: up to 60 packs per minute.