PFM: a Constellation of Innovations
A watchful eye on market trends and on the inclination to consume confirm our belief that packaging with plastic and flexible film will be fundamental in the future of the packaging industry. Flow pack has become universally recognised and its use is becoming more and more widespread due to the advantages it offers in terms of minimal environmental impact, reduced costs, and extreme versatility.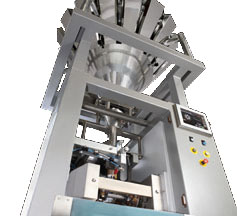 This is why PFM is concentrating its efforts on two fronts:
1. The development of applications for fast vertical packaging;
2. The development of special applications for horizontal packaging.
PFM Zenith Brick Pack that can produce box shaped bags with folded top seal, similar to the brick pack, but with flow pack advantages; Solaris Smart3S Steelo produces 4-corner seal stand up bags at high speed. The horizontal news is the PFM Falcon, an application dedicated to multipacks of fragile products like tomatoes, previously packed in trays. Coffee capsules packaging lines, a continually expanding market for which PFM is the benchmark, have been further researched and perfected.
The already highly acclaimed PFM Scirocco for packaging cheese slices in a
new resealable pack has been developed further. The wet wipes packaging range has been expanded and refined to offer complete lines with feeding systems, die cutting and labeling systems, robotic lid application systems.
PFM is also achieving success with its "green packaging" alternative, by offering the customer a complete series of flow pack machines that use biodegradable and compostable packaging materials; PFM is convinced of the fact that these materials are the future of the packaging industry.