PFM Falcon line and extra-brittle biscuits
Compact, fast, flexible and automatic are the features clients demand of this new, high-speed feeding and packaging line. For PFM the most demanding technological challenge was having to deal with an extremely brittle product with filling, whose production process called for high-speed feeding and packaging combined with a need for extremely fast format changeovers owing to the varying sizes from different product lines and to the quantity of biscuits in a single pack.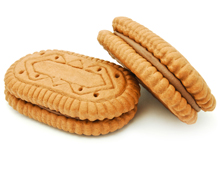 The solution proposed by PFM consists of an automatic line made up by a 6-way Shutter Feeder system which collects the biscuits from the process line and stacks them in piles on the feed belt of the PFM FALCON HS flow wrapper.
The competitive advantages of the PFM solution are mainly the capacity of the feeder itself in conveying products of considerably different sizes and in the production speed available even with different formats: the line can reach packaging of 240 piles of 3 biscuits per minute and 210 piles with 4 biscuits packaged per minute.